Quality footwear begins from the bottom up. If you haven't paid much attention to the inside of your shoes, you might wonder why your feet are uncomfortable after a long day. Walking, standing, and dancing in flimsy footwear might be fun for a few minutes, but long-term wear sets quality shoes apart from the pack. If you're truly fortunate, you've never thought about the footbeds in your shoes because you've selected ergonomically designed, well-made ones. If you chose poorly, you know exactly how painful that decision might have been.
The insole of your shoe may be designed with layers of padding and structural or cushioning material, intended to work as a shock absorber and contoured to ensure snugly fitting shoes. Footbeds in your shoes are created to follow the natural shape of the human foot, including dips for the ball and the heel, as well as small rises to cushion the arch and underneath the toes. Gently raised sides help your foot remain in place while walking, making your shoes fit more snugly and reducing chafing. While your shoes shouldn't be overly tight, proper fit means little wiggle room.
Materials in between the insole cover and the sole of your shoe typically include a shock absorbing padding of some sort – there are synthetic materials that help distribute the force from your foot striking the ground. Reducing this concussive force allows you to walk longer, with greater comfort. Foam padding is intended to provide a softer feeling when you walk, and a smoothly finished top layer – suede or a similar material – is used to help hug the foot and feel gentle against the skin.
Benefits of a well-crafted footbed
Shoes with a well-designed insole are more comfortable to wear. Better materials, especially natural ones such as suede and leather, are softer against your skin, and cooly breathable. While the soles of your feet are designed for hard use, the delicate skin on the sides and top of your foot isn't. Insoles that gently brush against your skin reduce rubbing and blisters.
Shock-absorbing footbeds greatly improve not only the comfort of your feet but their overall health as well. Repeated footstrikes, especially on hard surfaces, can lead to ligament damage over time. Conditions such as plantar fasciitis, or "heel spurs" can develop. This painful bone growth damages the muscle tissue inside the heel and can lead to severe complications. Lack of arch support in your shoes may lead to "fallen arches" – where the integrity of your foot's arch structure collapses.
All of these conditions only worsen with repeated stress. Improving the quality of your shoes, especially the construction of the footbeds and insoles, are one of the easiest, and most recommended, solutions that podiatrists offer. Protection from pressure and damage is the hallmark of a well-crafted footbed.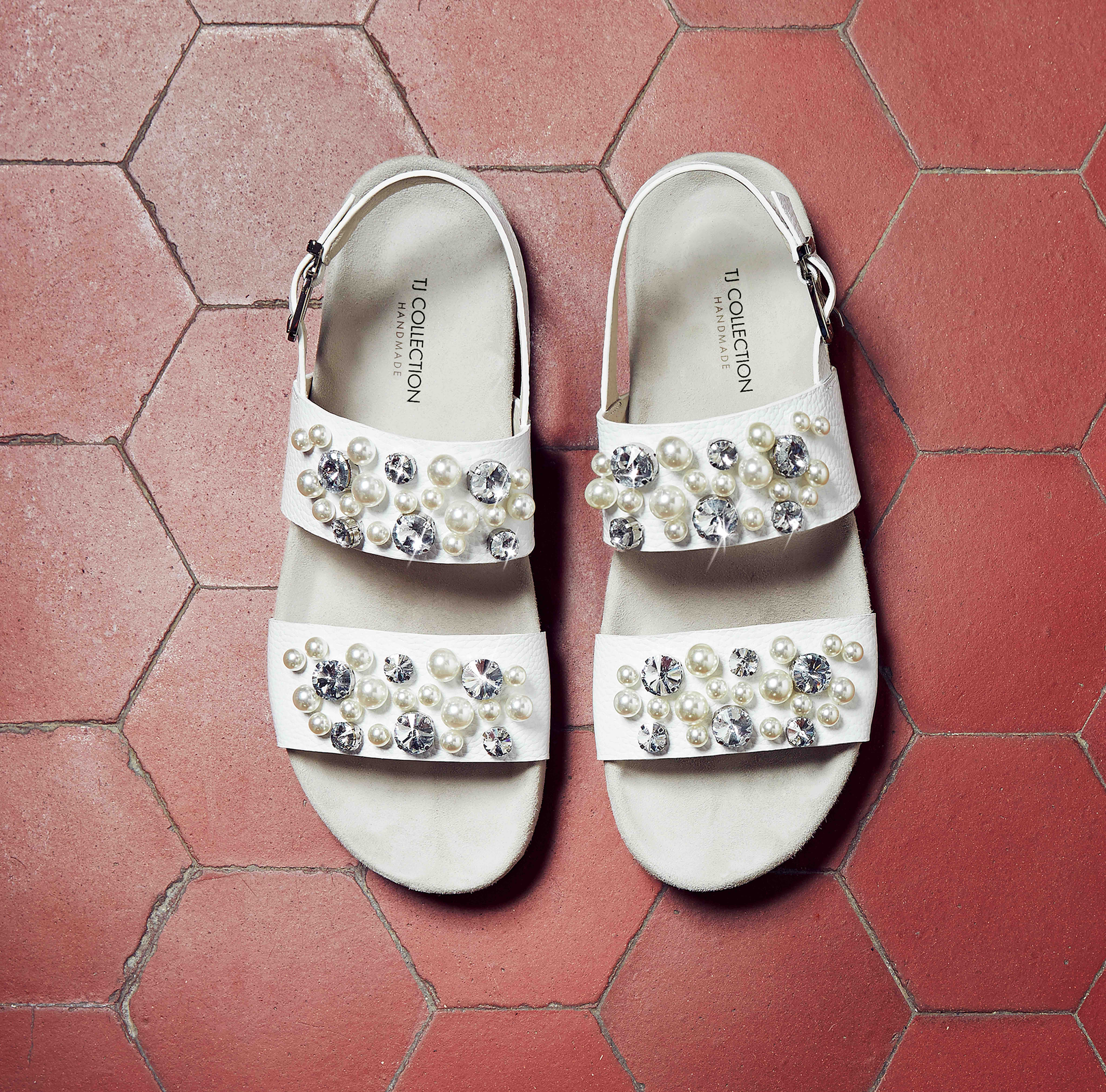 Comfortable yet stylish insoles
Choosing summer sandals that are stylish and comfortable can make the difference between being able to play in the sun all day and dance all night – and calling it a day to rest your toes. Footbed sandals aren't just limited to thick leather straps and cork soles. Using leading-edge technology and top-quality design, TJ Collection has created a variety of beautiful, comfortable, and supportive footwear for ladies.
Supple leather, soft suede, and smooth insoles are the hallmark of TJ Collection's Footbed Sandals. Delicate embellishments and richly colored leather are used to craft this summer's hottest styles. Style and comfort go hand in hand – and your feet will thank you.